Killing Floor:Calamity
Developer(s)
Tripwire Interactive
Publisher(s)
Tripwire Interactive
Platform(s)
Ouya
Release date(s)
Dec 18, 2013
Genre(s)
Survival Horror

Killing Floor Calamity is a top down arcade shooter created and developed exclusively for the Ouya system. It takes place in the cities and countryside of England and was based on the original FPS Killing Floor game by Tripwire Interactive.
Killing Floor: Calamity Features:
A new take on the smash PC hit Killing Floor, designed and built specifically for couch gaming on the OUYA in a top-down Arcade Shooter format!
Play solo or with a friend with 2 player Co-op on one screen. Now you can literally laugh in your friends' faces when they get chewed up by a Fleshpound!
21 of your favorite playable characters from the PC version.
All 10 Zeds from the Clot to the Patriarch are included and are as least as dangerous as ever.
7 Perks upgradeable to Level 20, with added new special abilities.
9 new maps specifically designed for top down shooter mayhem.
35 unique weapons – including 3 special weapons (Golden AK47, Leafblower, Dual Mac-10).
Supports OUYA and PlayStation 3 controllers!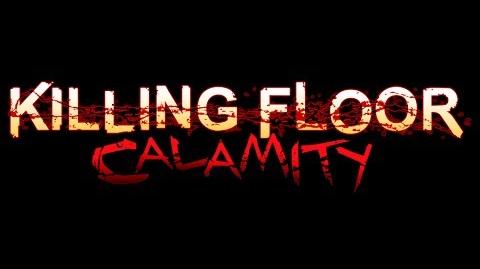 Ad blocker interference detected!
Wikia is a free-to-use site that makes money from advertising. We have a modified experience for viewers using ad blockers

Wikia is not accessible if you've made further modifications. Remove the custom ad blocker rule(s) and the page will load as expected.